*MEET THE AUTHOR*
After the success of the previous signing, don't miss another fantastic opportunity to meet Karen Millie-James, the author of this year's most compelling new crime and mystery thriller 'The Shadows Behind Her Smile'.
Karen Millie-James will be signing copies of her debut novel on Saturday 27th August, at WH Smith, intu Watford.
The Shadows Behind Her Smile is available to buy now in hardback, paperback and is available to download for Kindle – http://www.amazon.co.uk/dp/0993549616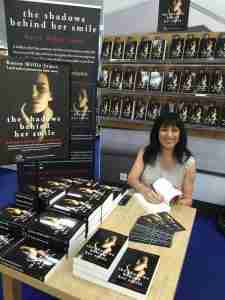 *UPCOMING PRESS*
Watch out for the October issue of 'Who Do You Think You Are? 'magazine featuring Karen Millie-James.  Read all about her background and childhood and how she came to be today's successful novelist and businesswoman.
More details to follow.